Get to the fun faster..
ACTIVITIES: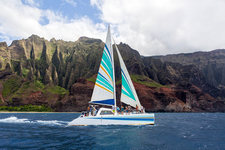 Join us on our Napali Sunset Sailing Tour aboard Leila, our 50-foot, Kauai-built sailing catamaran, and experience the astounding beauty of Napali's 3500-foot cliffs, cascading waterfalls, sea caves, secluded beaches, and abundant marine and wildlife. Sit back and enjoy a delicious Hawaiian-inspired meal and celebrate the setting of the sun with a sparkling wine toast to wind down an unforgettable Kauai sunset cruise.

Here at Holo Holo Charters, we're passionate about sailing! Turning off the motors, setting the sails, and letting the power of the wind move us across the ocean, really puts us in touch with our humanity and satisfies our need to explore and adventure. Sharing this passion is our business, so please come aboard our Napali Sunset Sailing Tour and let us wine and dine you up the Napali Coast, and take you sailing into the sunset!

We'll be taking Leila—our spacious and beautiful 50-foot, Kauai-built sailing catamaran. Leila was very specifically designed to efficiently sail Kauai's coast and to look amazing while doing it! Her narrow hulls and low center of gravity make for a most comfortable ride. You'll find plenty of room to spread out on Leila's deck and her nets, and there are two restrooms on board for your convenience.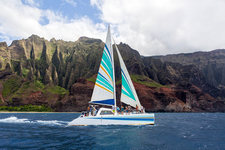 Say yes to adventure and get ready for an activity-filled morning on our exclusive Kauai snorkeling tours. We invite you to go sailing on our Kauai-built catamaran named, Leila. To top off the experience we will go snorkeling and voyage to Kauai's world-famous Napali Coast! Breakfast, lunch, drinks, and snorkel gear are all included in this fun, exciting, action-packed tour for the whole family.

Here at Holo Holo Charters, we get really fired up about sailing, and we believe it's something everyone should experience our Kauai snorkeling tours. So, we invite you to come sail with us, on our gorgeous 50-foot sailing catamaran to the Napali Coast! It's difficult to overstate the profound impact that sailing has had on humanity, and we can hardly imagine the bravery and brilliance of the Polynesians that navigated by the stars and sailed their way across the Pacific, reaching Hawaii over 1,800 years ago. Get a small sample of that experience on our modern sailing vessel.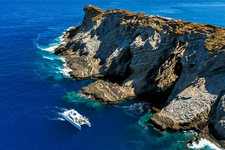 Experience the adventure of a lifetime on our premier, award-winning Napali Coast Tours that takes you up the majestic Napali Coast and across the Kaulakahi Channel to Lehua Crater off the "Forbidden Island" of Niihau—all in one amazing day! With breakfast, snorkeling, lunch, and drinks included—this unforgettable 7-hour Kauai tour to Niihau is also an excellent value. Say yes to adventure!

The Niihau & Napali Coast Tours is Holo Holo Charters' signature tour, on our signature vessel. In 1997, our flagship, Holoholo, was designed by our company's founder and built right here on the south side of Kauai, specifically to take people safely and comfortably to dramatic locations like Napali, Lehua Crater, and Niihau.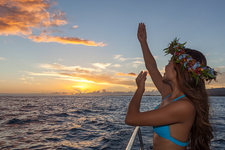 We'll bring the adventure, you bring the romance on our Napali Coast Sunset Dinner Tour. Holoholo, our stylish and steadfast cruising catamaran, is the perfect vessel on which to wine and dine you. Get up close and personal with the incredible Napali Coast. It's good vibes only on this pleasure cruise that includes cocktails, locally-prepared appetizers, dinner and dessert, and our signature sparkling wine toast at sunset.

Holo Holo Charters offers one of the only Ocean Friendly Restaurants (certified by Surfrider Foundation) on the water, enjoy a unique dining experience aboard our sunset dinner tour. Why stay home or sit in a boring restaurant when you can stretch out in the fresh air and enjoy the afternoon on the water, on our intimate and delicious sunset dinner cruise?

Holoholo, our flagship, 65-foot power catamaran, is the ideal vessel for a Kauai dinner tour because she's very stable on the water. As you can see in the pictures, she's got a low center of gravity and therefore she offers more pitch-damping than some of the more top-heavy, double-decker boats that you may see. We won't get too far into flight dynamics, but the point is that you're going to be comfortable and you're going to have less chance of losing your footing or spilling your wine—so we consider it an overall win-win!
Cancellation Policy: 24hr. cancellation policy: 50% charge for cancellations less than 24hr. 100% charge for no shows Large parties consisting of (6) six or more passengers are required to cancel (7) seven days prior to scheduled check-in time on their tour date to avoid penalities. All tour routes and snorkel destinations are subject to change or may re-route due to weather and sea conditions.