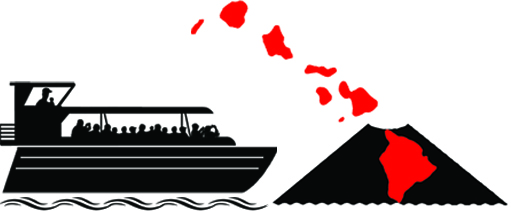 Big Island Boat Tours. We're best known for our world famous Lava Boat Tours & Lava Hikes. We offer Big Island Whale Watching Cruises in Hilo December 1- April 15. Also we have Hilo Fishing Charters and our best kept secret the Ultimate Waterfall & Dolphin Boat Tour from Hilo. Are you looking to go off the beaten path to explore hidden Hawaii & discover unique places only found on the Big Island of Hawaii? One of Hawaii's premiere land & ocean activities companies specializing in Big Island Tours in Hilo and on the Kona-Kohala coast near Waikoloa resorts. Our fleet consists of 3 Aluminum Boats the first a 40ft covered Modern Luxury catamaran "Lavaone" rated for 49 guests, the 2015 Adventure Cat 33ft 30 passenger "Lavakai II" and the 6 passenger fishing vessel "BOB" for your ocean fun Reservations 808.966.4200 WWW.SEELAVA.COM WWW.KOHALATOURS.COM
ACTIVITIES:
Volcano Boat Tours to see the everchanging coast of the worlds most active volcano Kilauea!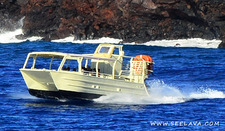 Hilo Boat Tours & Cruise Ship Hilo Shore Excursions on the Big Island, Hawaii to see Waterfalls, Dolphins, Big Island volcanoes, historic landmarks and the most tropical landscapes in Hawaii. Family Friendly Hilo tours make everlasting memories and great Hilo Cruise Ship Day Tours. Hilo Tours depart Wailoa Boat Harbor near Suisan Fish Company.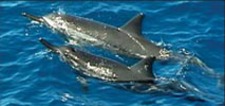 Hilo Whale Watching is best From December - April Humpback Whales are become a daily favorite, with sightings on every whale watch tour or you come again FREE. The Hilo side see far less boaters with only a few commercial operation so enjoy a one on one whale encounter without another boat in sight unlike the Kona whale watching partys. We see many types of behavior during this important mating time including Breaching, Fluking, Tail Slaps, baby Humpbacks (Calves), and Competition Pods.

Plenty of Free parking right where you board the boat.
Stereo Hydrophones to let you hear and feel the mysterious whale sounds.
Onboard narration pertaining to whale activity.
Friendly captains & crew will make this your whale watch of choice.
Cancellation Policy: Reservations cancelled before 48 hours receive a 90% refund. All cancellations will be assessed a 10% processing fee Cancellations Less than 48 hours will not be refunded it doesn't allow enough time to rebook seats. All passengers must be from age 6-75 years old and weigh less than 250 pounds, able to climb a 10 ft ladder, no issues with back, neck, or joints including heart problems, osteoporosis, recent injuries, obesity & pregnancy's are not allowed on tour. If handicapped please consult physician before considering tour and inform agent during booking. Tour this is a psychical demanding tour in rough open ocean waters not a lake like boat ride. Company reserves the right to cancel an passenger at time of tour if captain feels a guest is unfit for tour. By pressing SUBMIT I acknowledge that I have read & understand the Cancellation policy, all passengers may be required to sign a liability waiver prior to tour.