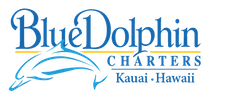 No visit to Kauai is complete without an adventure along Napali Coast! Blue Dolphin Charters is proud to run the two largest motor sailing catamarans on Kauai specializing in tours of Napali Coast and the forbidden island of Niihau. Whether you are here for a family vacation, honeymoon or looking for a new adventure, Blue Dolphin Charters will make your trip to Kauai a memorable experience for years to come! Kauai's Napali Coast is an exquisitely beautiful backdrop to the crystal clear ocean waters. The cliffs or pali, are grand rugged peaks weathered by the elements of the island. Narrow, steep, green peaks pierce the blue sky, while water cascades down the falls ending their flow into the sea. Blue Dolphin Charters provides a comfortable cruise to take in the grandeur of the sights with the opportunity to see dolphins, whales, turtles and colorful fish. Sunset cruises, snorkeling adventures and scuba (no experience necessary) are offered daily. We also offer rafting adventures along Napali Coast. Blue Dolphin Charters is the ONLY Napali charter tour company to offer a guarantee that you will see dolphins on your morning adventure or it's on us!
ACTIVITIES: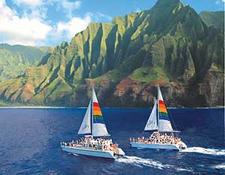 Our most popular morning tour guarantees that you will see dolphins! Take in the view of the island on the way to your snorkel/scuba destination up the Na Pali coast. Enjoy a continental breakfast in the morning, and a full deli buffet lunch along with beer, wine, and our famous Mai Tais!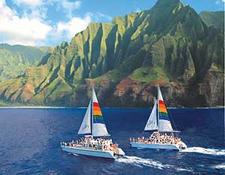 Our most adventurous tour features sightseeing along the Na Pali coast, then on to the Forbidden Island of Niihau. There is no landing on the island, but the cruise stops to snorkel or dive in its crystal clear waters. Continental breakfast, deli buffet lunch and beverages are provided.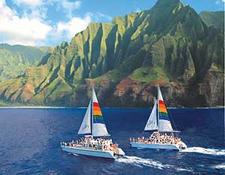 No Kauai vacation is complete without a Na Pali coast tour at sunset. This tour includes a dinner buffet and drinks. Scuba and snorkeling is not available on this tour.
Available May through September; our most popular afternoon tour combines the best parts of our Na Pali Sunset Dinner Cruise with an opportunity to snorkel or scuba dive. On the way to your snorkel and scuba destination enjoy a delicious spread of appetizers. Snorkel, scuba dive, float on boogie boards or noodles, play on our water slide, or dangle your feet in the water on our convenient swim step at the back of the boat.

After swimming enjoy a delicious luau-style buffet dinner complete with beer, wine, and Mai Tais as we sail back toward Port Allen. Your tour finishes with the beauty of the Kauai sun sinking into the ocean along with a champagne toast at sunset. Underwater camera and wetsuit rentals are available. For more information about scuba diving on Kauai please visit our Scuba Diving activity page!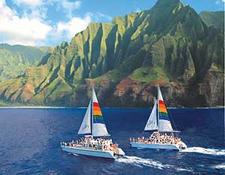 A Kauai sunset, whales, great pupus (appetizers) and drinks set the mood for this special time of the day. Available November through April.
Our most popular raft adventure travels along Napali Coast where you will see dolphins, turtles and snorkel with tropical reef fish. Adventure into sea caves (weather and sea conditions permitting). Includes lunch, sodas & water.

ALL TOURS ARE WEATHER PERMITTING.
Cancellation Policy: By checking here I acknowledge that there are no expecting mothers or children under 2 years old in our group (5 years old for the Niihau tour and 8 years old for raft tours). I also understand that there are no refunds for cancellations made less than 24 hours before the tour.